Who we are
We are ephebic in the Information & Communication Technology arena; established by a group of young entrepreneurs based at Kerala, India. After spending several years in the corporate as well as academic world and experiencing all the ups and downs in the career, We a group of experienced web developers, software engineers, trainers and academicians designed our own venture and named it "ZINET Software Solutions".
A wide range of Information & Communication Technology services have positioned the company to find solutions to drastic requirements on all areas of the modern market. The company have the expertise in developing Web applications, Mobile App, Health Care Services, Inventory Solutions, Academic Solutions, Banking Project / Product Development and Responsive Web Design. We are one stop technology (Analysis + Design + Development + Implementation) shop for all the application development with utmost quality. Our Strengths include excellence in JAVA/J2EE, Android/IOS apps .NET, Oracle, PHP (all types of web development) and also the care given to each projects/clients.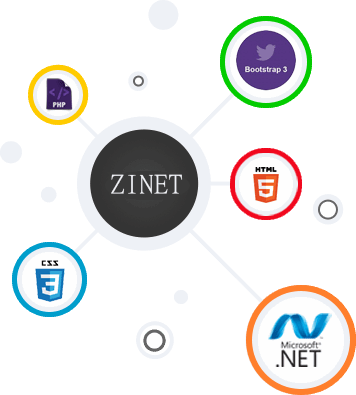 At ZINET Software Solutions, we aim to break the conventional boundaries of creativity and let our employees, think out of the box to come up with innovative ideas which will help our valuable clients to expand their businesses and achieve their goals. We believe people do not like complexity; we believe our solutions should make your life and business simpler and give better results. We believe any organisation that deems it fit to "partner" with us in the services we provide should experience increased SUCCESS!
We also believe organisations should get the worth of their investment in this undertaking. Our objective is to serve the clients across the globe with more quality and satisfaction from individual clientele. With ZINET Software Solutions you can rest assured that you will be getting the best possible services for your hard earned money!
Our company's aim is to ensure that all the customers are satisfied on time and to provide the employees a best place to share their passion -
" technical partner towards success"